Year 8 Trip to the Guru Nanak Gurdwara in Smethwick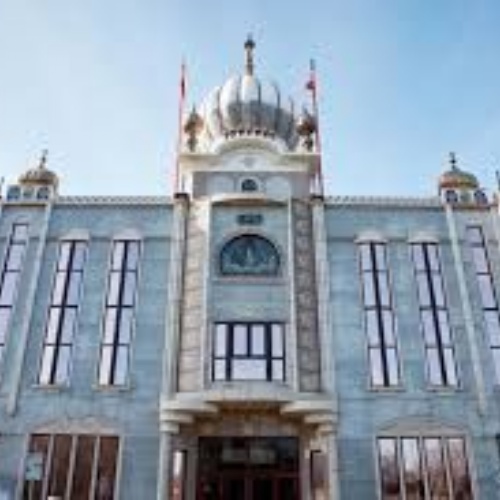 On Wednesday 28th September some Year 8 pupils visited the Gurdwara in Smethwick. This trip was arranged as many of us were disappointed not to get on last term's trip. Getting the opportunity to visit the Gurdwara is a memory that I will always be extremely fond of and a chance I will always be grateful for. It was an inspirational trip, in my opinion.
We were welcomed by two members of the Gurdwara who asked us to remove our footwear. Before we arrived we had fixed scarves over our hair as a mark of respect. Once we were ready, our hosts kindly showed us around the Gurdwara. We visited several prayer rooms, a gallery of paintings portraying key moments in Sikh history, the dining hall and a screening room.
Throughout our tour, our guides provided us with in-depth knowledge on the Gurdwara, its contents and the Sikh religion. We were told about the Gurus and were shown the Guru Granth Sahib- the Sikh Holy Book. We were graciously granted access to the prayer hall and witnessed some Sikh prayers.
In the screening room a video was shown which further educated us on everything to do with the Sikh religion. We will retain this knowledge for a great length of time.
When lunchtime arrived we were welcomed into the Langar hall and were given a delicious meal. This consisted of two different curries, bread and a rice dessert. We sat on the floor with all members of the community. I enjoyed the trip a great deal and it was a very educational morning.
By Isabelle Crunden 8NB