Metacognition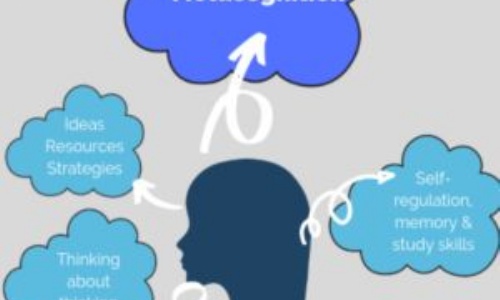 Last Wednesday, we had our Metacognition enrichment day.
Metacognition is all about the children having an awareness of how they learn best. They worked very hard and produced some lovely work! It was particularly wonderful hearing the conversations they were having about growth mindsets and believing they can achieve anything if they work hard and apply effort over time.
We want the pupils to be independent, show resilience and persevere in the face of difficult tasks, as we only fully learn if something is challenging and we have to work hard at it.
It would be wonderful if you could continue talking about these things at home. You could discuss what things have an impact on learning power and their ability to learn such as concentration, sleep, diet and relaxing away from screens.
The children in years 7 & 8 should also be able to share with you some different revision strategies and which ones they prefer. Here are some poems that the pupils wrote in reflection on of day.
"Use metacognition to help us with revision,
If you use it correctly, that's your decision,
If you're getting stressed, try meditation,
And please tell me, what's the point in education,
So we don't make mistakes in important situations,
Just remember to utilise your concentration.
If you have a growth mindset,
When you fail a test there is no need to sweat,
Whereas, If you have a fixed mindset,
You'll leave school with a lot of regret,
But if you're diagnosed no need to be upset,
Just calm down in silence where your mind can rest."
"I already know I will fail,
I'll try anyway, I might prevail.
The answer to this I know I'll get,
I won't get mad, won't get upset.
Skills are built, not born,
I don't know the answer I am torn.
I worked so hard to get here,
I won't back down because of fear.
My heart is beating in my chest,
I want to give up, I must confess.
But I take the chance, and I fret,
I did it with my growth mindset."