Anti-bullying week 15th-19th November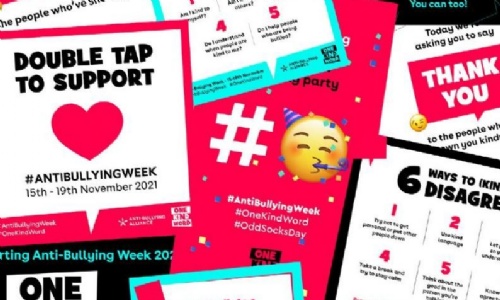 Anti-Bullying Week is coordinated in England and Wales by the Anti-Bullying Alliance and takes place from 15th to 19th November 2021 and it has the theme One Kind Word. The week will begin with Odd Socks Day which is supported by CBBC and CBeebies star Andy Day and his band Andy and the Odd Socks.
Odd Socks Day marked the start of Anti-Bullying Week and this year took place on Monday 15th November. The day is supported by cBeebies presenter and ABA patron Andy Day and his band 'Andy and the Odd Socks'.
Odd Socks Day started in 2017. Each year since Andy and the Odd Socks have written a song. Over 5 million children take part in Odd Socks Day each year! Some incredible celebrities have gotten involved such as Ant and Dec, Victoria Beckham, Annemarie, Craig David, Emma Willis and many, many more.
We also held an Anti-Bullying competition this week. We asked pupils to create a poster about putting a stop to using homophobic and racist language. The deadline for entries was today, Friday 19th November. If your poster is chosen, it will be displayed around school and you will win a prize!