Christmas Lunch 2021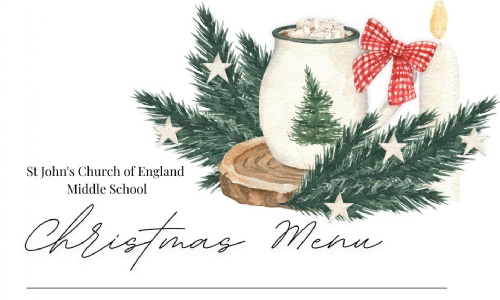 This year our Christmas Lunch will be held at Bromsgrove School
This will allow key stages and teachers to eat together and enjoy a different dining experience. It will also take place on one day and will allow a whole key stage group to eat together in a larger space.
| | | |
| --- | --- | --- |
| Years 5 and 6 (Key Stage 2) | Thursday 16th December | 12pm |
| Years 7 and 8 (Key Stage 3) | Thursday 16th December | 1pm |
This is a lovely opportunity for children and staff to share in the Christmas celebrations by eating together, singing songs and having fun and we would like to encourage everyone to take part.
The cost of the meal will be £5.45 per pupil and only Christmas lunch will be available on that day as our kitchen at St John's will be closed.
The Christmas lunch will comprise of a roast turkey dinner or a mushroom and vegetable pie as the vegetarian option, followed by festive yule log and assorted fruit jelly. A full menu is attached.
Payment must be made through our online payment facility, ParentMail, by midnight on Sunday 5th December. Your online payment will confirm that parental permission has been given.
We will presume that a turkey dinner will be required for most pupils however if a vegetarian option is preferred or if your child has any dietary requirements, for example allergies, gluten free or halal, please email Mrs Dawn Marshall our Kitchen Manager [email protected] before Sunday 5th December. All children qualifying for Free School Meals will be provided with a Christmas lunch.
It is essential that your payment is made online. If payment is not received by midnight on Sunday 5th December we will presume that a Christmas lunch will not be required. Your child will need to bring a packed lunch from home as no further meals will be provided by the kitchen, they will still take part in the trip to Bromsgrove School so that everyone can eat and celebrate together.
Once you have made payment, we will take this as a firm commitment to the event and will not be able to offer any refunds. Please not that when making the payment you accept that this is non-refundable if your child is unable to attend for any reason.
If you feel you require financial support to pay, please contact the school office and ask to speak to Amanda Lloyd who will be able to see what support can be offered/available to you or alternatively you can email [email protected].
Bromsgrove School is a nut free site and we ask that this is respected if you are preparing a packed lunch from home for your child.
Yours faithfully,
Mrs A Elwell
Head of School