Spirited Arts Awards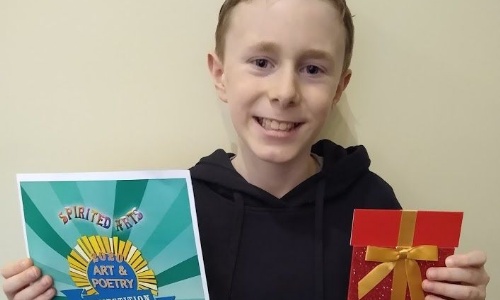 I am pleased to report that we have a National Winner in the 'Spirited Arts' RE Competition.
Congratulations to Matthew Law in 6BC!
Matthew's entry 'Zoom Church won in the 'Picturing Faith' Category. Matthew wins a £25 Amazon voucher and a £35 voucher for the school. His winning entry is called 'Zoom Church' and can also be found on the NATRE website.
Well Done Matthew!
"The church is not the building it is the people inside the building. At the moment all the churches will be empty, but church is still happening, even though we aren't actually in the building. Christians are still being church but just outside of the building. People are hosting Zoom meetings and Google meets and some churches are doing their sermons on YouTube.It is not perfect, but it is better than nothing. We can still pray to God even though we are on Zoom or in our homes. It doesn't make any difference if we are at home.I have taken the photos of the empty church to show that church isn't happening in the building, but church is the people and that is why I have a picture of a church on Zoom. I took a photo of the stained-glass window and the baptism pool because the window has a dove on it to resemble the Holy Spirit and it has the cross that is empty, Jesus died for us and has now risen from the dead."