FUNFEST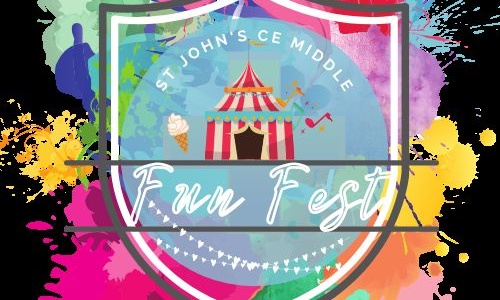 Unfortunately due to current COVID guidelines and having to cancel the Theme Park trips we have decided to hold a St John's FUNFEST on Friday 9th July.
This will include:
Giant slides x2
Inflatable obstacle course/ total wipeout style
Bumpercarz
Surf simulator
Human table football
Inflatable penalty shootout
Gladiator duel
Aztec Fun run
Children can also grab a burger, hot dog or veggie burger from our BBQ! supplied by 'Gourmet Gorilla'.
Gourmet Gorilla are a family run catering company who have been hosting hog roasts and BBQ's in the Worcestershire, Warwickshire, Gloucestershire, and the West Midlands areas for the last 8 years! They supply prime cuts of British meat and getting this from reliable, local farms – with full traceability, as well as delicious veggie options too.
Everyone who helps in delivering the event experience has passed a hygiene certificate and have either experience in outdoor cooking or top level customer service skills. They have a level 5 star hygiene rating, are fully insured and all gas and electrical equipment is tested and certificated annually.
All the food is sourced by me, we only use verified, quality locally sourced produce.
We take all your wishes and constraints into account and I or one of my team are happy to talk through your requirements or visit your venue beforehand. We take pleasure in delivering a bespoke experience.
We have also hired a Mr Whippy Ice cream van. The children will have a choice of a Mr Whippy ice cream, slush puppy or an ice lollipop if they would like one and music will be playing throughout the day.
Additional we have got in touch with Steve Kaos. Steve is a Circus Entertainer and will provide a workshop for the children. Circus Kaos is the name for his workshop, a brilliant selection of props including balls, clubs, spinning plates, diabolos, cigar boxes, hula hoops for all ages, hold on stilts, unicycles, micro mini bicycles and more all coordinated in fabulous orange. An area is created with posts and bunting Including free standing posts for indoors/solid ground! Flags, signs including a big CIRCUS sign again coordinated in orange and blue.
The whole event will cost £10 per pupil and will include everything mentioned! No need for any extra money. We ask that you pay for your child's place on parentmail by Friday 2nd July at 12 noon. It is really important that we meet this deadline so the day can go ahead.
KS2 will spend the morning outside and KS3 will spend the afternoon outside.
Children will be kept in their year group bubbles and so the field will be split and each Year group will get half the time on each side of the field.
If your child did not sign up for the theme park because they don't enjoy rides, get sick on coaches etc. but they would like to attend FunFest then they must go on Epraise and purchase "FUNFEST" ASAP. The deadline is Wednesday 23rd June for Epraise purchase. After this date parents will then be able to pay for. BE QUICK IT WILL ONLY BE OPEN FOR A FEW DAYS!!!
DO NOT PURCAHSE FUNFEST ON EPRAISE IF YOU HAVE ALREADY PURCHASED THE THEME PARK TRIP – YOU WILL AUTOMATICALLY HAVE A PLACE!