P.E Update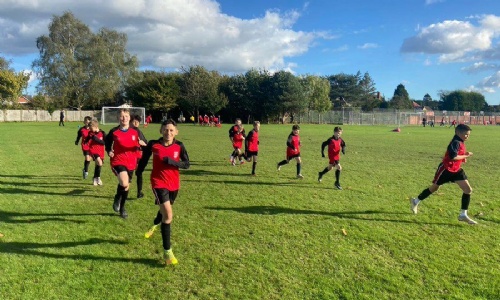 It has been an extremely busy time within the PE department over the past few weeks. We have continued to work our way through the curriculum topics of gymnastics, indoor athletics and games such as hockey, football and rugby.
We have also seen the launch of our extensive extra-curricular clubs which were unfortunately delayed due to Covid restrictions. Many clubs still have limited spaces available and therefore if any children would still like to sign up then they should contact Mrs Jennings.
It has been so lovely to see the children attending our clubs and lots of smiles on faces. There have also been numerous opportunities for our pupils to participate in sports festivals and fixtures around North Worcestershire.
Commonwealth Themed Multi-sports
30 children from Year 5 attended a multi-sport festival themed around the impending Commonwealth games. Children were able to try a range of different activates throughout the afternoon and were commended by the organisers for their enthusiasm and attitudes.
Fitness Festival
14 children from Year 6 were invited to a fitness festival at Bromsgrove Hockey and Tennis club. They completed a range of activities including skilling, agility skills and parachute games. The children all returned to school looking happy, if a little exhausted.
Sports Results
KS3 girls football v Alvechurch – ESFA national cup – Lost 5-2
Year 6 boys football v Parkside – Friendly – Won 6-0
Year 7 boys football v Ridgeway – WSFA district cup – Won 10-3
Year 8 boys football v Rowlett School – ESFA national cup – Lost 6-3
Year 5 boys football festival – Friendly at Aston Fields – A and B teams both won their groups
Year 8 boys football v Parkside – Friendly – Lost 5-1