French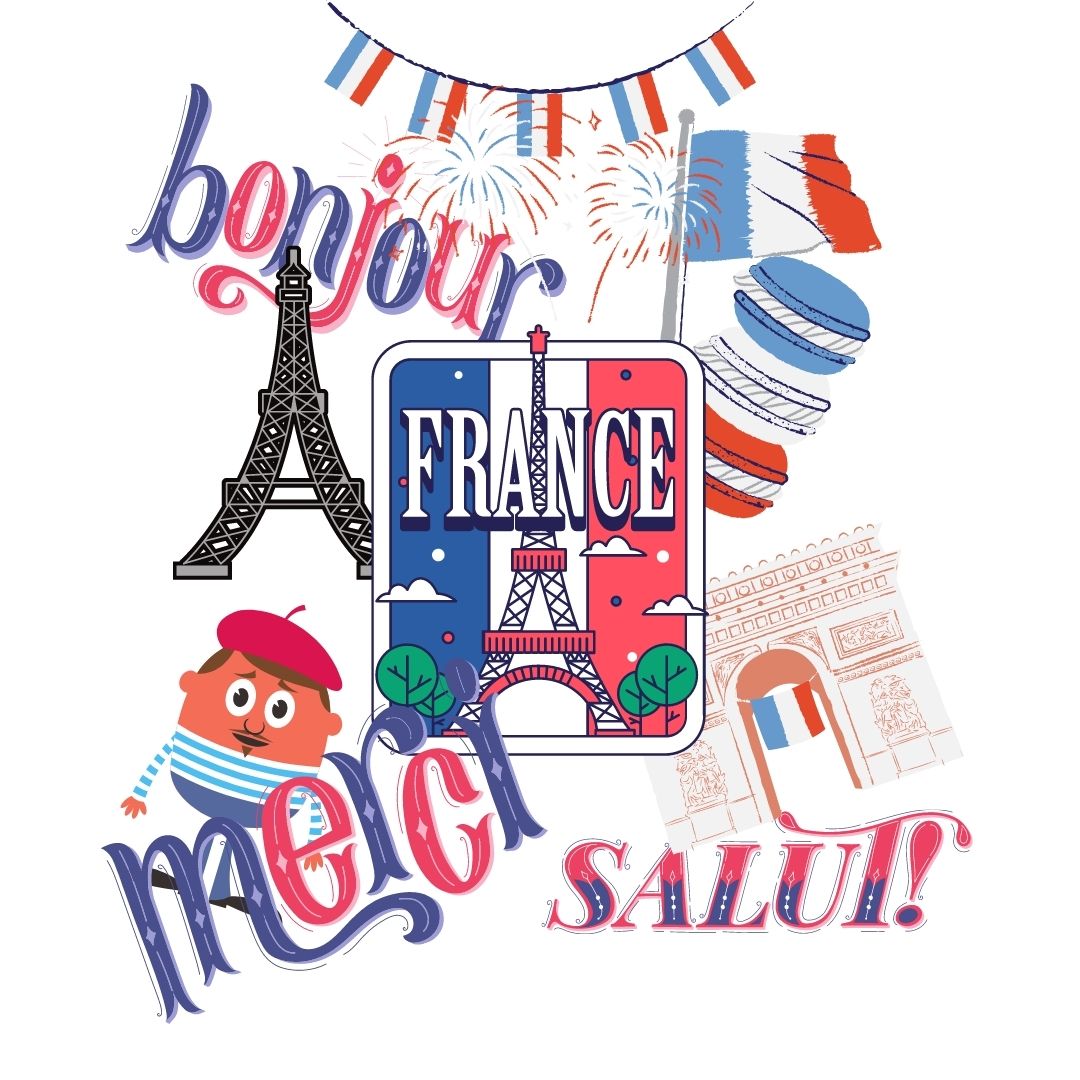 Here at St John's, our intent is that all pupils develop a genuine interest and a positive curiosity about French, finding it enjoyable and stimulating. Pupils have the opportunity to explore and develop a deeper understanding of other cultures and the World around them with a better awareness of self, others and cultural differences. The intention is that they will be working towards becoming life-long language learners and well-rounded citizens.
We develop pupils' confidence communicating their own ideas, gain a sense of achievement by learning a new way of thinking and equip them for the Future, to work and study in/ with other countries. Our mission is to increase their understanding of how the Target Language works and to ensure that pupils understand and respond to spoken and written language in a variety of contexts, speak with increasing confidence and good pronunciation and write varying lengths for different purposes and audiences, using a variety of grammatical structures.
Curriculum
Year 5
Autumn Term
I CAN DESCRIBE MYSELF AND OTHER PEOPLE
I CAN DEVELOP MY INTERCULTURAL UNDERSTANDING
TRANSITION-CONLIDATION AND REVISION:
Revise routine of basic classroom greetings in target language
Respond to sound patterns and words through song- How phonics work in French.
Introduce using simple sentences myself and my immediate family.
Revise numbers 1-20
Talk about my age and someone else's name and age ( focus brother/sister)
Recognise and use months of the year to say when my birthday.
PORTRAITS AND ART
Les peintres Francais : french artists- research
Recognise and use vocabulary for colour.

Shapes and colour with Matisse

Understand vocabulary for parts of the body and describe facial features.

Describe my imaginary creature
CUSTOMS AND TRADITIONS : Les fétes de Noel
Explore Christmas traditions around the World.
Understand French Christmas traditions and customs and compare/contrast to English traditions.

La Saint Nicolas- La Galette des roi- les Santons de Provence et la creche de Noel

Christmas activities incl. making cards etc.
You will revisit:
•Common French names
•The verb "avoir" in the 1st and 3rd person singular
•Numbers from 1 to 15
•Colours
Spring Term
I CAN INDICATE LOCATIONS
I CAN DESCRIBE ANIMALS
I CAN ASK AND ANSWER KEY QUESTIONS
The world and me
Learn the vocabulary for countries and nationalities- Recognise flags.
Draw and describe my flag using simple sentences
Say where I live / am from and what language I speak.
Say if I live in an apartment or a house and where it is located in simple sentences.
Name renowned cities and countries in the French speaking world.
Animals around me:
Talk about what pets I have at home and the pets I would like to have. ( mention their names)
Use some simple adjectives to describe animals.
Start to understand masculine/feminine agreement and ask/understand simple questions.
Explore animals from other habitats:"L'Arche de Noe" / a farm/a "Zoo" using same basic structures and creativity,
You will revisit:
•Introduce myself
•Telling age and birthday
•Describing people
•The verb avoir in the present
Summer Term
STATE WHAT I HAVE AND DESCRIBE OBJECTS
EXPRESS OPINIONS AND EMOTIONS
At school objects
I have in my school bag/ pencil case and classroom. Use simple negative sentences
Use days of the week to fill my timetable.
Express simple opinions about school subjects.
Describe my uniform using simple sentences.

Write an simple email to a French pupil to talk about my school
Music
Recognise instruments to convey what I play or like/would like to play.
Explore French music to express emotions and simple opinions.

Learn a French nursery song and create a simple song in French with support to show my creativity in another language. ( Alouette/ Au Clair de la lune)
The planets ( linking to days of the week)
You will revisit
•Colours
•How adjectives agree in gender and number
•Introducing myself ( name, age, town, country)
•Using "je voudrais" ( other context- jouer)
REVISION TIME:
Revisit and consolidate what I learnt in Y5 to show more confidence/ autonomy and accuracy.
Year 6
Autumn Term
Describe myself and others
Describe food /Express opinions
Describe routine behaviour in the present
CONSOLIDATION- revision
Describe simply what my close family are like and use adjectives to describe them ( physical and personality)
Use key verb "etre" and "avoir" with the 3rd person in the present.
My day as a pupil
Revisit vocabulary for school subjects to describe my timetable in simple sentences using days of the week.
Express simple opinions giving reasons about school subject and teachers.
Talk about my day at school:

use "on"
Food at the canteen ( extension-I like/ dislike and simple reasons)
My routine and what I do at school.
Use the time.

Understand the school system In France and the difference with England- Talk about "la rentrée" and differences with England.
I will revisit
Days of the week
Key verbs etre+avoir
Numbers
Hair and eye description
School subjects
Simple opinions
Spring Term
Describe routine in the present
Describe things
Indicate location
The sports I play in my town
Learn simple sentences about the weather and understand temperatures in French, including moins

Present a weather forecast to a chose audience.

Sports - using jouer and faire ( in different types of weather, who with )
Recognise places in town and what I do in my town ( hobbies and sports). Use key verb aller with the 1st person
Understand how to give simple directions. Use OS map symbols.

Explore "Marseille"
Learn about la pétanque / Le Tour de France

Listen to the song "Sur le Pond D'Avignon"
My house
Say where it is located
Say what my house is like (simple opinions)- rooms in the house. Use "il ya un/une…"
I will revisit
Family members
Adjectives
Time
Days of the week
Negative sentences
Gender of words
Summer Term
Indicate location
Describe routine behaviour in the present
Describe food
My holidays
Recall countries and flags and form simple sentences to say where I go.
Mention activities I/ we do on holidays.
Create and write a postcard
Say where I would like to go for my holidays " je voudrais aller.."- make a short presentation about my dream holidays and design a poster for a travel agent.

Learn about The DOM TOM countries
The café at the beach
Use basic sentences to buy drinks and snacks " je voudrais.."- Use a different currency- the Euro and higher numbers.

Role-play at the café- design a simple menu in French

Understand holiday habits in France and les "Les Grandes vacances" linking to the geography of France ( mountains/ the coast/ rivers/places to visit).
Watch "Les vacances du petit Nicolas"
I will revisit
Numbers
Aller in the present tense and word agreements- preposition
Countries and Flags
Free time
Food
Year 7
Autumn Term
Indicate routine behaviour in the present, frequency and location
Describe events in the present
What I do at home, how often and where:
CONSOLIDATION= Mention where I live ( review local area/ my house)
Discuss TV programs, genre of films I watch and books I read - give opinions and justifications.
Say what type of music/ singers I like to listen to and why.
Say what I do on the internet.
Explain what I can do/ my talents. Use a modal verb+ infinitive verbs (je peux+ infinitive)
Extend my communication skills by adding where in the house I do those activities- rooms in the house.( add key daily routine structures to make it more detailed
Take part in a talent show: La France a du Talent- prepare an audition- role play
Explore films/ songs in French- creativity and authentic resources
I will revisit
Present tense
Daily routine verbs.
Opinions Time markers and frequency markers
Free time activities and sports.
Music and instruments
Spring Term
Describe myself and other people, relationships and express opinions
Make plans, indicating details
CONSOLIDATION
Introduce my close family members- main physical features (retrieve)
Discuss personality traits – compare family members/ people.
My relationships with family and friends:
Talk about my relationships with close family members and friends to express my feelings.
Make plans with friends = what I am going to wear and where and give opinions. ( introduction near future- ALLER)
Use a range of tenses (present AND near future) in simple sentences and show some increasing autonomy manipulating structures learnt.
I will revisit
Family Introduction.
Description of people using key verbs (etre/ avoir)
Places (town/ house)
Free time and activities.
Time markers /Frequency markers
Colours
Infinitive verbs
REVISION- to develop spontaneity and skills- grammar points and vocabulary ahead of Year 8, Reflection time and DIRT WORK- KPI and targets
Summer Term
Describe events in the past
Develop my Intercultural understanding
Describe and indicate location
My week end in Paris
Learn about the main Paris landmarks and the 14th of July in France.
Describe a week end away in Paris in the past: Introduction to the past tense.

What I did in Paris- when and how I went there- activities
How it was.
Where I stayed – extend giving opinions/ simple description
Mention where I usually go/ do on holidays to use a range of tenses

Order food at a Parisian café/ restaurant using a modal verb+ infinitive- Compare structure with the near future (retrieve)

Take part in a role play- create a French menu
Give a Tripadvisor review showing more autonomy and creativity.
I will revisit
•Key verbs ( aller/ avoir/ etre)- modal verb in the present ( vouloir)
•Free time activities
•Previously seen adjectives
•Food
•Countries/ places in town
Year 8
Autumn Term
Describe myself and other people
Make plans for the future
Indicate location
My responsibilities, my aspirations and ambitions:
Talk about what I must do to earn pocket money.
Say what jobs my parents do, why they like/dislike their jobs.
Use a variety of adjectives to describe and mention places of work.
Use the conjugation of "travailler"- ER verbs ending in the present tense
My Ideal job and aspirations: What am going to be/do or would like to to/be in the near future.
Look at authentic resources ( job search in the TL/ Cvs)
Write a CV and script in French to take part in a role play: Reflect on my talents/ qualities and strengths to be persuasive.

Revisit near future/ modal verbs/ personality traits/ my talents) to convey my ideas.
Understand the importance of languages in the world of work- Research
I will revisit
Present tense ER verbs
Key verbs "etre"/ "faire"
Places
Description of people
Talents- music/ sports/ other interests
Simple modal verbs- Je dois+ infinitive
Family members
Spring Term
Describe routine and behaviour in the present and near future.
Make plans for the future and express opinions.
My health and lifestyle;
Use vocabulary for parts of the body to say where it hurts.
Learn vocabulary for Illnesses; if I need to go to the Doctor's or the pharmacy to get medication and remedies an say how I feel.
Role play
Show how active I am and mention sports/ hobbies.
Talk about healthy/ unhealthy eating habits-
New Year resolutions: Discuss my resolutions to stay healthy ( near future- modal verb"il faut"+ infinitive)
I will revisit and consolidate
Parts of the body
The verb avoir
Sports and free time
Time and frequency markers
Food
The near future and simple modal verbs
Key verbs and infinitives
Summer Term
Describe events in different tenses
Indicate location
Develop my Intercultural understanding
Destination Holidays
Revisit vocabulary for different countries and where I usually go adding opinions and what we can do.
Discuss past holidays: destinations- means of transport – activities- who I went with and accommodation ( retrieve past tense)
Answer and understand simple questions about holidays.
Describe my holidays in a variety of tenses (present/ past/near future/ conditional)
Use a range of opinions and structures to describe a holiday
Road trip in France- create a tourism booklet (explore parts of France, and the geographical aspect of the country)
Francophone countries and diversity:
Explore French speaking countries and locate them.
Research different aspects of the culture and geographical details.
I will revisit
Means of transport- family vocabulary.
Key verbs avoir/ etre
The present/ past/ near future and conditional tense
Simple modal verbs and infinitives
Time markers and frequency
Simple questions in different tenses
A variety of opinions and adjectives
TOTAL RECALL – Learning journey REVISION AND REFLECTION TIME
REVIEW my learning journey at St John's. Develop my skills by taking part in different revision activities ( using creativity and metacognition/ ICT/independent/ group-pair work) and become more independent to consolidate my knowledge of structures and grammar
Knowledge Organisers
Year 6
Autumn
Coming Soon
Spring
Coming Soon
Summer
Coming Soon
Year 7
Autumn
Coming Soon
Spring
Year 8
Autumn
Coming Soon
Spring