George and Albert Wallace
Who were George and Albert Wallace?
As part of the Legacy 110 project and our remembrance activities the Legacy 110 team researched the life and experiences of George and Albert Wallace whose names appear on our school remembrance plague which remembers the fallen of the Great War who attended the school. We would like to share their stories with here in the hope that their names and sacrifice.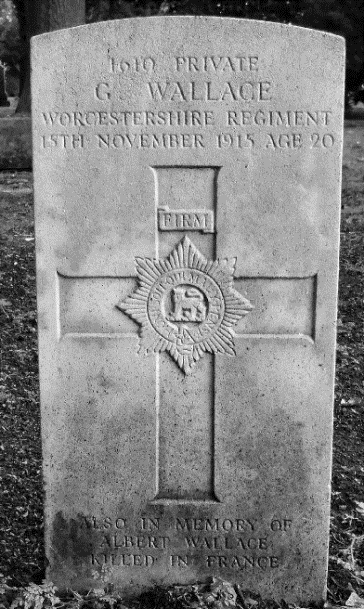 George Wallace was Son of Henry and Ellen Wallace and lived at 86 Worcester St. Bromsgrove. Before the war George was part of the army reserved in the Worcestershire Regt. He was sent to serve on the Weston front in March 2015 and on the 15th November 1915, Age 20 died of wounds received whilst on century duty.
George has been wounded in the neck by a bullet while on sentry duty. Owing to his cheerfulness his comrades were misled into thinking that the injury was less serious than proved to be the case. Later, however, Mr. Henry Wallace was officially informed that his son lay dangerously ill at Rouen, and a letter also came to hand from the Sister in charge of the hospital stating that Wallace was suffering from a gunshot wound in the neck, which endangered the spine and caused partial paralysis. On Friday a letter from the Chaplain at the hospital dated August 24, stated that Private Wallace was severely injured in the region of the spine, and the doctor could not hold out much hope of his recovery or of his being able to proceed to England in the near future. Despite making it back to Scotland George died of his injuries and is buried in St. John's grave yard.
"We have been in the trenches a week. We are having plenty of rain now. The trenches are full of mud. We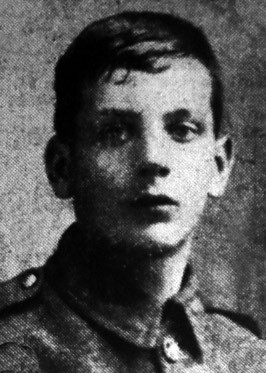 don't get much rest when we are in the trenches, only about three hours' sleep every day. The other night eight of us had to go on listening patrol. We had to go in front of the German trenches. They put you in a hole, and you have to lay flat on the ground. You daren't move, or speak, else the Germans might spot you; then you would have a hot five minutes. We had eight hours lying in this hole, the rain pouring heavily. I dare say you saw in the paper about George getting wounded while on sentry. I've been on sentry. I know what it is to be on sentry, you never know when you are going to be shot; you have to keep your eyes open. While we are writing letters the shells are bursting about twenty yards away. We keep smiling, and we are happy enough in our little dug-outs."
If you would like any further information about the Wallace's please contact Mr. McEvilly.