Primary Teacher Training

Thinking of Primary Teaching?
Together with South Bromsgrove High School, we are the North Worcestershire Training Hub accredited by the University of Worcester.
PGCE with QTS ***COMMING SOON***
We are currently recruiting for 2024-2025 Primary Placements.
If you are interested in pursuing a career in teaching, there are various routes that you can take to achieve your goal. With the right training and support, you can develop the skills and knowledge needed to succeed in this rewarding profession. If you would like to discuss routes into teaching, you can reach out to Sarah Marsh via email. Alternatively, you can call 01527 832376for further details.
Do you want to train with the support of industry experts?
The North Worcestershire Teacher Training Hub is an excellent choice for those looking to train to become an outstanding teacher. With a number of excellent schools under our umbrella, we offer a wonderful learning environment for children that is warm, vibrant, lively, and safe. Our staff are committed to offering the children every opportunity to develop both academically and socially. Their commitment is evident in the plethora of enrichment and after-school activities and clubs that are available to the students.
Academically, The Spire Teaching and Learning Partnership is a top performer, achieving excellent results in terms of both progress and attainment. Over the last decade, the organization has been deeply committed to providing teacher training opportunities, and locally, we were one of the first middle schools to offer the school-based PGCE and Early Years program. Their teacher training provision has gone from strength to strength, and we continue to be passionate about training the next generation of teachers.
If you're looking for a place to train as a teacher, The Spire Teaching and Learning Partnership should be at the top of your list. With our commitment to providing a high-quality education, you can be sure that you'll receive the training you need to become an outstanding teacher and make a real difference in the lives of your students.
"Your feedback and support throughout this year has genuinely made me the best teacher I could be. I can't thank you enough."
Why train with us?
Guaranteed Leadership Development as an Early Career Teacher and beyond
As an early career teacher, it can be daunting to navigate the world of teaching and find the right placement that will not only provide quality training but also help you develop your leadership skills. That's where our program comes in. We offer a range of quality placements in Early Years, Primary, and Middle School settings, across a wide geographical area.
Our programme is designed to provide a sustained school experience throughout the year, allowing successful applicants to be fully immersed in the school community. We work in partnership with excellent local alliance First and Middle Schools, which offer a unique range of expertise and experience. These placements are for trainees wishing to focus on the age range 3-7 and 5-11.
What sets us apart is our commitment to ensuring our trainees receive a comprehensive Early Career Teacher training programme. Many of our school-based PGCE Trainees are offered an Early Career Teacher post, guaranteeing leadership development opportunities beyond the programme. With our programme, you can be confident that you are receiving the best possible training and support to kickstart your teaching career.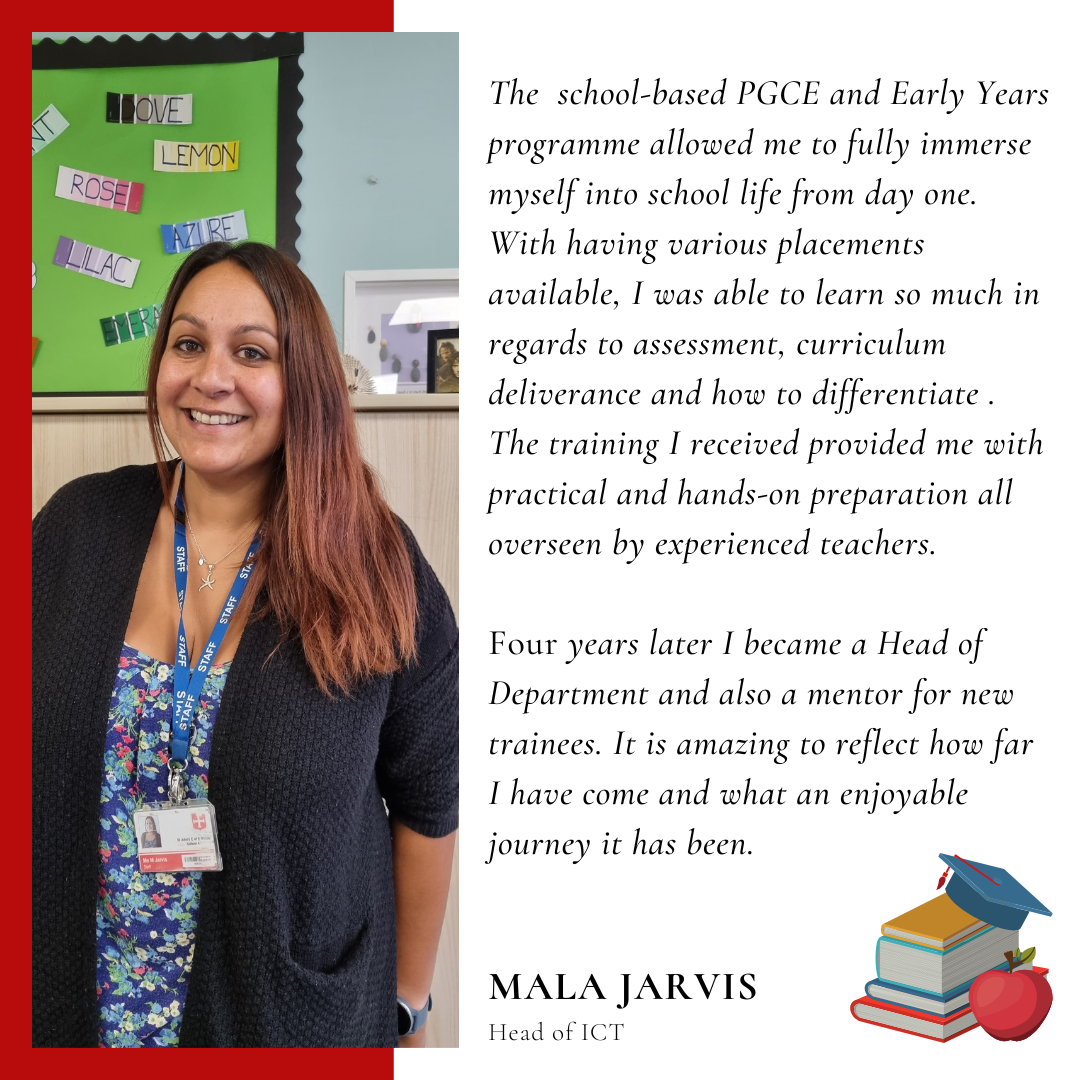 Qualifications
This school-based PGCE and Early Years programme allows you to achieve QTS and a PGCE qualification with credits towards Masters Accreditation.
Entry Requirements
We are looking to select trainees with outstanding potential and a commitment and enthusiasm for working with children.
Academic requirements
Honours degree normally (2:2) or higher from a United Kingdom higher education institution or equivalent qualification. Applicants with a 3rd class degree will be considered on an individual basis.
All entrants have achieved a standard equivalent to a grade 4 (formerly grade C) in the GCSE examinations in English Language, mathematics and science. (for 2022 entry, applicants must have these qualifications by the start of the course). Alternatively, we offer an equivalency test if you don't have the required GCSE grade to apply for our courses. Trainees who begin courses before providing evidence of the required GCSE standard (or equivalent) will not be eligible for financial incentives, such as bursaries or grants until they achieve the required standard.
Qualifications not listed? Contact the Admissions Office for advice by email: AdmissionsB@worc.ac.uk
Additional requirements
An Enhanced DBS check. You will be sent details of how to apply for your DBS in the summer term. You will need to pay for this. You may already be part of the DBS update service. Find out about the update service here. As part of the DBS process, you will be checked against the Children's Barred List.
A check against the Prohibition List.
If you have lived, studied or worked overseas for three months or more in the last five years a Certificate of Good Conduct from the country of residence will be required. Further information and guidance associated with additional costs are available from the Home Office.
An online occupational health check. All those on a teacher training programme must be certified as meeting national requirements for physical and mental fitness to teach, as set by the Department for Education.
International students: IELTS 6.5 or equivalent
Other information
School experience is desirable, but not essential.

Interviews will be conducted online. Applicants will be contacted directly with more details.
All applications for PGCE should be made via the Government's Find Postgraduate Teacher Training website.
Additional useful information is available on the Government's Get Into Teaching website.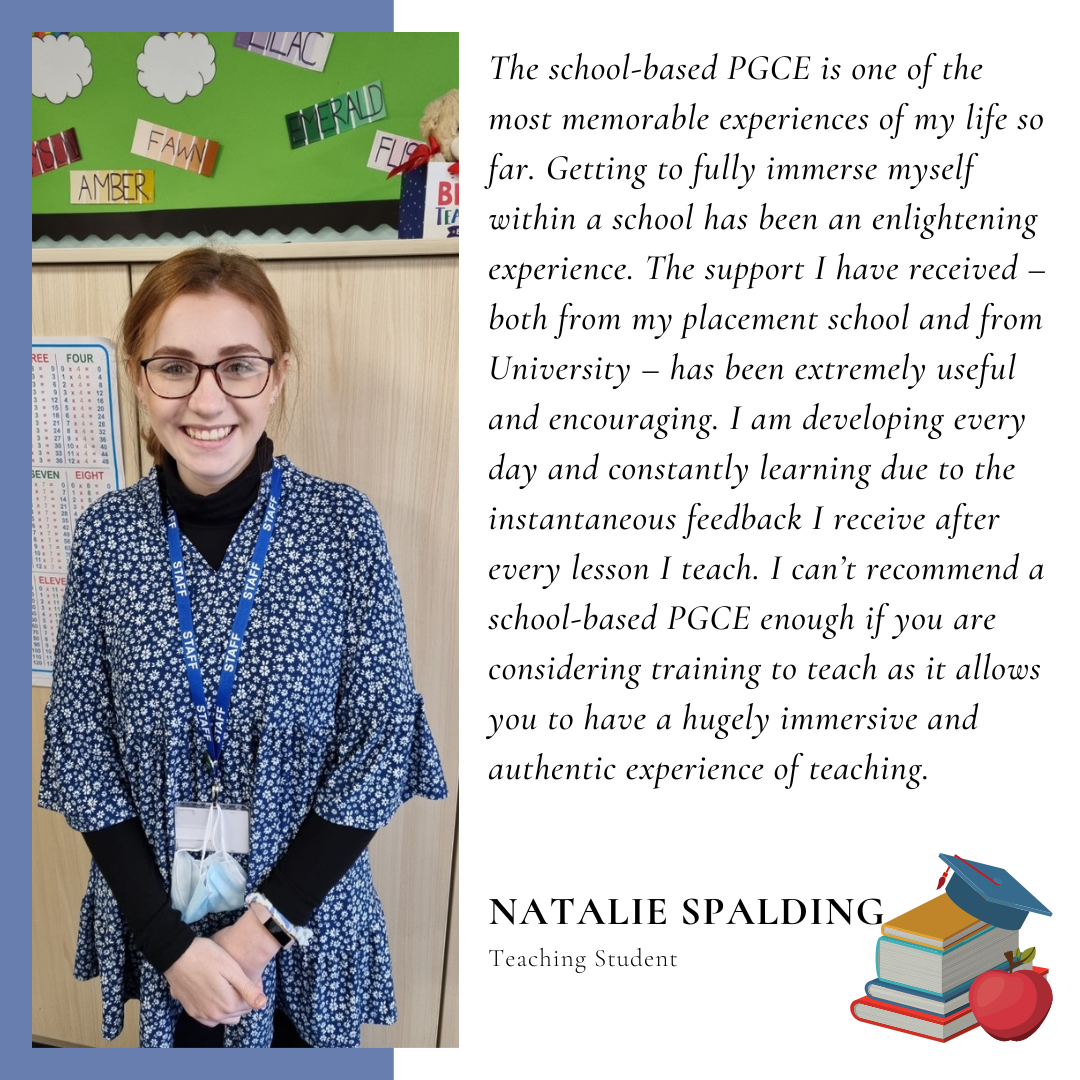 For more information
For further information on the school-based PGCE and Early Years programme with The North Worcestershire Teacher Training Hub, please contact
Sarah Marsh
email: smarsh@spiretrust.co.uk
tel: 01527 832376
"I have loved every minute of my time at St John's and your amazing staff have taught me so much and I can't wait t o put it to use."

If you are interested in Secondary Teacher Training, please head over to South Bromsgrove High School website for further info.