Collective Worship at St John's
"Do not let anyone look down on you because you are young. Instead, set an example for the believers through your speech, behaviour, love, faith, and goodness."

1 Timothy 4:12
Our identity as a church school is very important to us, and we really believe that our pupils live up to the words of 1 Timothy 4:12 (above). Many times we have seen them set such a great example to their fellow pupils, to staff within the school and also to visitors. Our school environment is one where our shared Christian values generate a safe, reflective space and a multitude of opportunities for pupils to develop spiritually. Our school has a great track record in allowing children at the school to take the lead in ministering to each other. The Worship Council, made up of pupils from each year group, and our wider team of Worship Leaders, are very active in leading and planning assemblies, class reflection times, and church services, running the school prayer-space, providing music, drama, readings and prayers for daily collective worship, and reviewing and evaluating opportunities for worship across the school.
Our strong connection with St John's Church is fundamental to the school. Key events in the church calendar are celebrated through services at the church (Harvest, Christingle, Christmas, Ash Wednesday, Easter, Pentecost) as well as it being the venue for occasions such as our concerts and our annual prize-giving ceremony. Over the years we have benefited tremendously from the ministry of those at St John's church, with great input into our church services, assemblies and also within the governing body. Rev. Ray Khan also joins us in school regularly as our school Chaplain, spending time with staff and pupils, and working with specific groups.
Each half-term we focus in-depth on one of our four Christian values. This value then forms the basis for our collective worship over the period. Every week at St John's we have an assembly theme which is tailored to our school community. The topic will be based on the value and may look at this through a contemporary lens, a Biblical narrative, or may fit in with one of the many charity fund-raising initiatives that we support. Pupils at St John's have proved to be exceptional at raising funds for a whole range of different charities. Our collective worship has a broadly Anglican flavour, formed by our core identity as a Church of England school; at the same time we try to include aspects of the full breadth of expressions of the Christian Faith, both locally and as we explore the global nature of Christianity. We will explore the example of significant Christian public figures such as Nelson Mandela, Martin Luther King, Dietrich Bonhoeffer, S. Teresa of Calcutta, S. Maximilian Kolbe and S. Oscar Romero. We also welcome the contribution of other faiths and traditions, and our collective worship programme includes space to explore key festivals and points in the year such as Hanukkah, Eid and Diwali, as well as highlighting the contribution made by persons of other faiths and none, for example Malala Yousafzai and Mahatma Gandhi.
Our vision is to be a school where every individual in our community is valued and enabled to flourish as a child of God; where education impacts upon the whole-person, and care and concern for others is key. We seek to be a truly inclusive community where all can 'Give of their Best', achieve their full God-given potential, be good citizens and respect difference in our growing global world.

- St John's Middle School Vision
The Vicar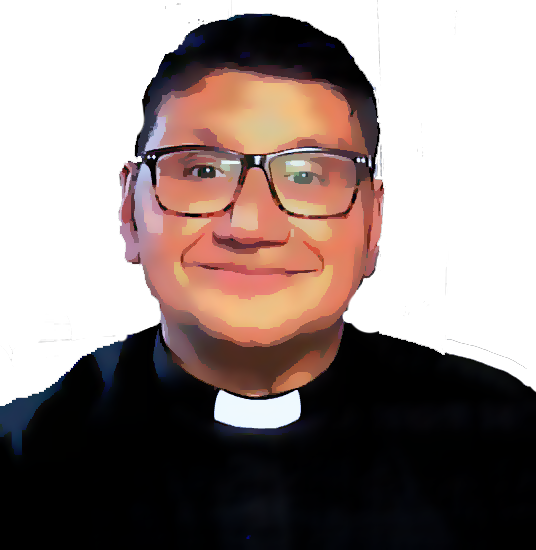 My name is Ray, and I have had the joy of being the vicar of Bromsgrove for over 5 years. I like bright colours, Chelsea FC and have a terrible sense of humour. I am married to Caroline and have 2 adult children. Before I was a vicar I did many jobs but most of my working life has been with the Church Amy, where I worked with young people.
St John's school is an amazing school with fabulous staff. I am deeply committed to the life of the school and visit the school every week. It has been wonderful to be part I am of the amazing school family at St. John's and travelling with you all on life's journey. As a vicar, I am there to listen, to pray, to support, to encourage and to help you see where God is at this moment. This is what I offer to you and to that end I am your vicar, for children, families and staff at the school.
A church school is more than just providing an excellent education, it should be about learning to be a family together, to be there for each other and to find hope and purpose for the future. So whether you as a family go to church or not, go to a mosque or Temple, the church is there for you. I do have a terrible memory for names, but I always have a smile for everyone and hopefully we can grow together and have fun on the way!
Reverend Ray Khan
St. John's Church, Bromsgrove