Welcome to Year 5
Welcome to Year 5 at St. John's. Our main aim in Year 5 is to ensure all pupils settle quickly and happily into their new school so they can enjoy and achieve from the very moment they join us.
We have a six form entry from approximately 13 feeder schools and having such a large intake from a number of different schools means we need an effective transition process, from first to middle school.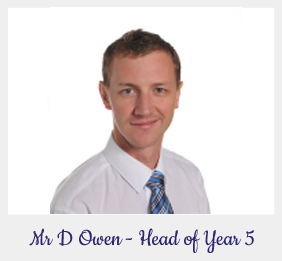 This process starts in the academic year prior to moving, when pupils are given transition booklets whilst at their First School. These include information about St. John's, as well as tasks to complete for their future teachers to see. Larger feeder schools have a visit from the Head of Year 5 to discuss what to expect in September, whilst pupils from smaller first schools and any other pupils who may have additional requirements can visit for additional transition days. They will be given the opportunity to take part in various fun tasks to help familiarise them-selves with their new school. There is also a whole school transition day when all pupils will be together for the first time in their new classes.
In September, when all the pupils have arrived, they settle into their classes with their form teachers, proudly wearing their new uniform. During the first few weeks we assess pupils in English and Maths and then place them in ability groups for Maths whilst aiming to keep classes with their form teacher for many lessons for the familiarity and similarity to first school, hopefully making the transition a little smoother and easier.
In Year 5, we also have 'Give of Your best' prizes and activities which pupils can gain and attend if they receive enough achievement points. These include trips to the cinema or possibly even Drayton Manor! There is also the annual residential trip to Malvern, which we aim to open to as many pupils as possible. The trip includes all sorts of hair-raising activities including canoeing, high bridges, zip wire, climbing and many more.
Celebrating Achievement
Achievement is considered to be extremely important at St. John's and is celebrated through various reward schemes. We also recognise and reward children who behave well and show respect for others, those who 'Give of their Best'.
Extra Curriculum
There are numerous extra-curricular activities available to pupils in Year 5 and various enrichment oppor-tunities which take place both in and out of school. We actively encourage the children to take part in new activities. This may be learning a musical instrument, playing in the orchestra, singing in the choir or becoming part of one of the many sports teams which start in Year 5. There are also many other clubs for those with other interests. It is the time when they can learn new skills which may stay with them throughout their life.
Homework Policy
Year 5 Homework is set weekly and each pupil will receive some Maths and English work. In addition, multiplication tables and spellings are given each week and reading is expected to be done for 10—20 minutes each day. Other subjects may require occasional homework tasks, for research or projects. A homework timetable is given at the beginning of each year so pupils and parents know when to expect it and when it is due.
Year 5 Class Teachers
Head of Year - Mr. D. Owen
Room 1 – Mr. B. Franklin
Room 2 – Miss S. Deeny
Room 3 – Miss E. Taylor
Room 4 – Ms M. Jarvis
Room 5 – Mrs C. Woodward
Room 6 - Miss C. Larkin