Physical Social Health Economic (PSHE) and Relationship and Sex Education (RSE)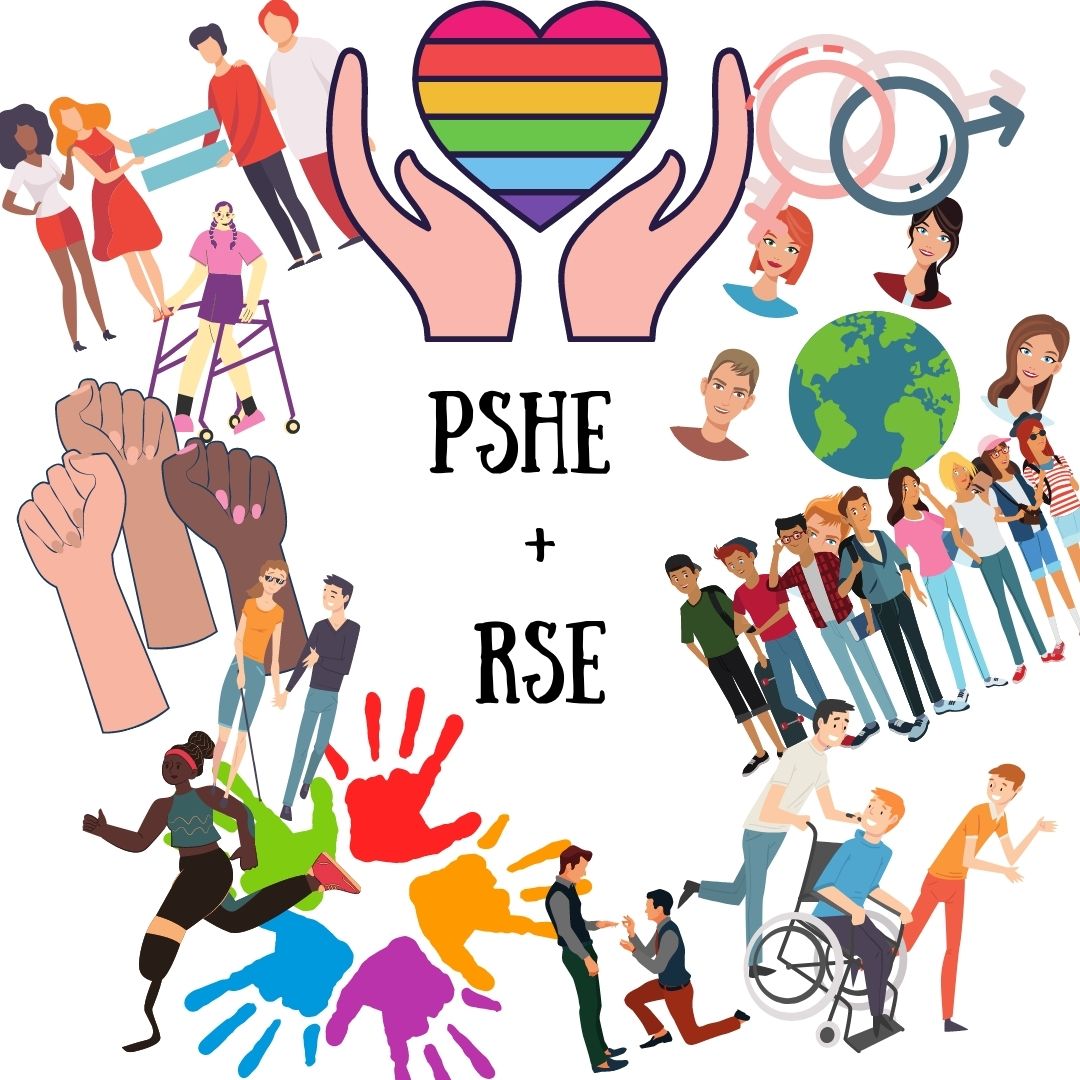 Personal, social, health and economic (PSHE) education forms part of our broad, balanced curriculum, and meets the needs of all of our pupils. Our key intent for PSHE is to promote the spiritual, moral, cultural, mental and physical development of the pupils at this school and within their society. We aim to prepare pupils at the school for the opportunities, responsibilities and experiences of later life, while giving them the skills, personal attributes and knowledge that they require to lead safe, healthy lives.
Pupil's successes in PSHE are highlighted through certificates, praise postcards and other key responsibilities they are given within school. To enhance the curriculum we have many opportunities including visiting speakers, an annual Mock Trial Competition and the school support various charities within the community.
At St John's PSHE is an integral part of the Spiritual and Social Education (SSE) Department.
As children grow up in an increasingly complex world, influenced by social media, the media, peers and families, the need for high quality, supportive, accurate, unbiased and factual information to guide children through their journey to adulthood is essential. Parents' and carers' role is paramount in this, but school also plays an important part in helping children understand these complexities.
What is distinctive about PSHE at St John's Middle School?
The curriculum content is specially designed for our students
PSHE has a designated place on the weekly timetable
All lessons focus on discussion and sharing of views
Mental Health and Wellbeing is a priority
Students have ownership of topical based lessons throughout the year
National events such as Safer Internet Day and Children's Mental Health Week are celebrated throughout the school
KS3 students have taken part in Youth Parliament 'Make Your Mark'
Cross-curricular links are made to all other subject areas
There have been a number of changes proposed by Government which aim to support schools and parents in this important area. Below are some common questions and answers which schools are often asked. As ever, if you have any questions not answered or any concerns, talk with your child's teacher who will be able to help.
What is PSHE?
Personal, social, health and economic (PSHE) education is the school subject through which children and young people acquire the knowledge, understanding and skills they need to manage their lives, now and in the future. PSHE education develops the qualities and attributes pupils need to thrive as individuals, family members and members of society.
Is PSHE compulsory?
PSHE education is compulsory in independent schools, and the majority of the subject is now compulsory in all schools (including maintained, academies and free schools) since September 2020.
Relationships Education is now compulsory at key stages 1 and 2; Relationships and Sex Education (RSE) is compulsory in key stages 3 and 4, and Health Education at from key stage 1 to 4. Statutory guidance outlines what schools must cover, but not all that should cover as part of broader PSHE provision that also includes economic wellbeing and careers education. PSHE education was already a requirement in independent schools.
The Department for Education (DfE) considers PSHE education 'an important and necessary part of all pupils' education and says that the 'All schools should teach PSHE'. Section 2.5 of the national curriculum also states that all state schools 'should make provision for personal, social, health and economic education (PSHE), drawing on good practice'.
How does PSHE education help schools to meet their statutory duties?
Under section 78 of the Education Act 2002 and the Academies Act 2010, schools must provide a 'balanced and broadly-based curriculum' which promotes 'the spiritual, moral, cultural, mental and physical development of pupils at the school and of society, and prepares pupils at the school for the opportunities, responsibilities and experiences of later life'. PSHE education makes a major contribution to schools fulfilling this duty.
Schools also have duties in relation to promoting pupil wellbeing and pupil safeguarding (Children Act 2004) and community cohesion (Education Act 2006).
Statutory guidance on Keeping Children Safe in Education states that 'Governing bodies and proprietors should ensure that children are taught about safeguarding, including online safety. Schools should consider this as part of providing a broad and balanced curriculum'. PSHE education may therefore cover safeguarding issues such as child sexual exploitation and other forms of abuse, sharing of sexual images, the impact of online pornography on pupils, the dangers of extremism and radicalisation, forced marriage, honour-based violence and female genital mutilation.
The Equality Act 2010 places duties on schools to both address prejudice-based bullying and to help prevent it from happening, and in doing so to keep protected characteristic groups safe. PSHE education, with its focus on identity and equality, can help schools to fulfil this duty.
How has the scheme of work for PSHE and RSE been developed?
We use a recommended scheme of work devised from the PSHE Association Guidance for Personal Social Health Education (PSHE) This will be published on our website. We update our policies and send staff on revised training, subject leader days and briefings on the changes as needed. Resources used have also received PSHE Association accreditation.
How is PSHE assessed?
Children and young people need regular opportunities to reflect on and identify what they have learned and what they need to learn next. Teachers also need to gauge pupils' progress and make informed improvements to their learning if required.
PSHE education cannot however be assessed in the same way as most other subjects. It would be inappropriate for assessment in PSHE education to imply passing or failing for instance, as this might imply passing or failing 'as a person', given the subject's personal nature. It is however, possible to recognise and evidence progress and attainment in PSHE education knowledge, understanding, skills and attributes.
All of our Pupils carry out an initial assessment using a 'Landscape of the Mind' Questionnaire. This gauges pupils' starting point in terms of their personal attributes and attitudes, and informs teachers' planning. An end assessment then demonstrates the progress pupils have made since the baseline activity. Ongoing assessments are also used within lessons and units of work to ensure that children acquire new knowledge.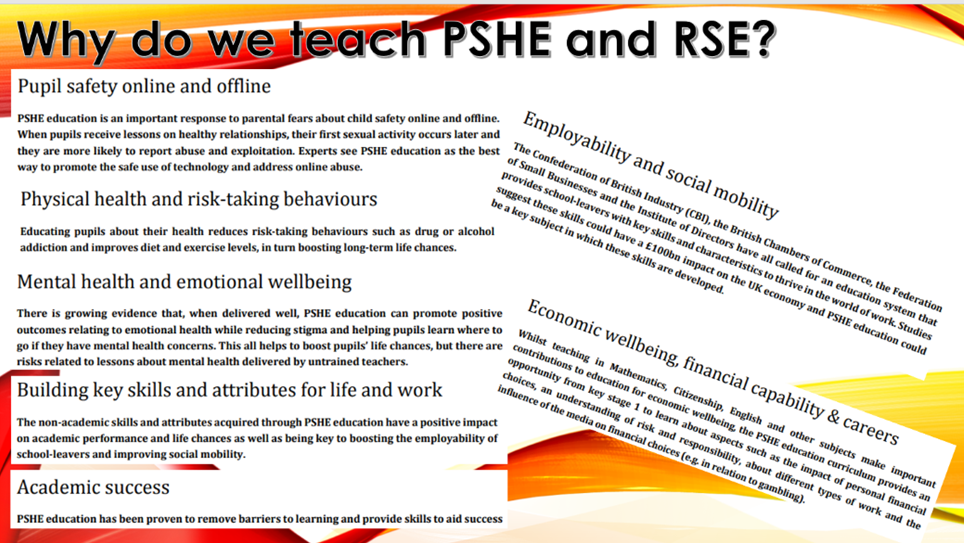 What is RSE?
Relationship and Sex Education (RSE) is part of a lifelong learning about physical, moral and emotional development. At St John's, RSE is centred on personal safety, caring for others and building strong relationships. This is coupled with teaching students about the human body and its changes during puberty, including information about reproduction, control of fertility and sexual health, sexuality and sexual relationships.
Effective relationship and sex education is essential if young people are to make responsible and well informed decisions about their lives. We aim to inform pupils, presenting relevant facts in an objective and balanced manner. St John's C of E Middle Academy will help young people learn to respect themselves and others, enabling them to move with confidence through childhood and the beginning stages of adolescence, empowering them with the knowledge and confidence to prepare them for their journey to adulthood.
What do schools in England have to teach from September 2020?
Relationships and Health Education (including puberty and menstruation) will be compulsory in all primary schools in England and Relationships and Sex Education (RSE) will be compulsory in all secondary schools. This is in response to the growing risks children and young people may face through online activities and the need to support them to be safe and healthy, and manage their academic, personal and social lives in a positive way.
* Update - Due to COVID -19 an amendment was made to ensure that Schools needed to begin teaching from the new guidance commencing in the Summer Term 2021.
What will be the aim of Relationships Education in primary schools?
The aim of Relationship Education is to teach the fundamental building blocks and characteristics of positive relationships, with particular reference to friendships, family relationships, and relationships with other children and adults. This aim is to create opportunities to ensure children are taught about positive emotional and mental wellbeing and how friendships can impact on this. Children will also be taught, in an age appropriate way, to recognise and report different types of abuse, including emotional, physical and sexual. This will include focusing on boundaries and privacy so that children understand that they have rights over their own bodies and know how to seek advice when they suspect or know something is wrong. There will also be opportunities to teach children about boundaries with their peers, including when they are online, and ensuring they learn that where abuse takes place it is never the fault of the child who is abused.
What is the aim of Relationships and Sex Education (RSE) in schools?
The aim of RSE is to give young people the information needed to develop healthy, nurturing relationships of all kinds, not just intimate relationships. Effective RSE does not encourage early sexual experimentation but teaches young people to understand human sexuality and respect themselves and others. Knowledge about safer sex and sexual health remains important to ensure young people can make safe, informed and healthy choices as they progress to adult life. Pupils should also be given opportunities to understand how healthy relationships can benefit their own mental wellbeing and self-respect.
There should be opportunities for pupils to learn about the laws surrounding sex, sexuality, sexual health and gender identity which should be delivered in an age appropriate and inclusive way. The laws around a variety of other issues should be considered which include: marriage, consent, pornography, abortion, radicalisation and gangs.
There should also be opportunities to learn about grooming, sexual exploitation and domestic abuse which should include addressing coercive and controlling behaviour. The physical and emotional damage that can be caused by female genital mutilation (FGM) should also be addressed. Schools should continue to work closely with parents when planning and delivering RSE.
Will my child be taught sex education at St John's?
Although sex education is non-statutory in primary schools, we choose to teach some aspects of sex education within year 5 and 6 which go beyond the existing, compulsory national curriculum for science and we will continue to do so. Ahead of these lessons, we inform parents/carers of what we will cover and give you the opportunity to discuss this. These lessons are matched to the age and physical maturity of the pupils and you have the right to withdraw your child from these lessons.
Do I have a right to withdraw my child from Sex Education?
Yes. In primary schools, parents and carers can withdraw their child from any of the sex education delivered, other than as part of the science curriculum.
In secondary schools, parents and carers will have the right to request that their child be withdrawn from some or all of the sex education delivered as part of statutory RSE which, unless there are exceptional circumstances, should be granted up to three terms before their child turns 16. At this point, if the child themselves wishes to receive sex education, the school should make arrangements for this to happen in one of the three terms. Before granting any such request it would be good practice for the head teacher to discuss the request with parents and carers and, as appropriate, with the child to ensure that their wishes are understood and to clarify the nature and purpose of the curriculum. Schools will want to document this process to ensure a record is kept.
For SEND pupils, the head teacher may want to take a pupil's specific needs into account when making decisions about whether a pupil may be excused or whether adapted materials would be beneficial.
The head teacher will normally discuss with parents and carers the benefits of receiving this important education and any detrimental effects that withdrawal might have on the child. This could include any social and emotional effects of being excluded, as well as the likelihood of the child hearing their peers' version of what was discussed in class, rather than what was directly discussed by the teacher (although the detrimental effects may be mitigated if parents and carers propose to deliver sex education to their child at home instead).
Do I have a right to withdraw my child from Relationships Education?
There is no right to withdraw from Relationships Education at primary as the contents of these subjects – such as family, friendship, safety (including online safety) – are important for all children to be taught and compulsory from Summer 2021.
Will St John's consult with parents and carers before teaching these subjects?
St John's consult with parents/carers when developing and reviewing our policies for Relationships Education and RSE. These policies will be published online, and will be available to any individual free of charge. We will also ensure that, when we consult parents and carers, we will provide examples of the resources we plan to use. Click Here to view some examples of these resources.
How will children and young people be supported if they have special educational needs and/or disabilities (SEND)?
Relationships Education and RSE must be accessible for all children. Teaching will be differentiated and personalised to ensure accessibility. As part of our SEND duty 'preparing for adulthood' outcomes, we take extra care to ensure that this essential area is supported by our PSHE and Relationship Education. Where needed, we will always tailor content and teaching to meet the specific needs of pupils should and ensure that teaching is sensitive, age-appropriate, appropriate to development and delivered with reference to the law.
Does the new Relationships Education and RSE curriculum take faith into account?
The subjects are designed to help children from all backgrounds build positive and safe relationships, and to thrive in modern Britain. When planning and teaching these subjects, the religious background of pupils is taken into account so that topics are appropriately handled. In developing these subjects, the DfE have worked with a number of faith organisations and representative bodies to ensure they are inclusive
Will these subjects cover Lesbian, Gay, Bisexual and Transgender (LGBT+) relationships?
Pupils should be taught about the society in which they are growing up. These subjects are designed to foster respect for others and for difference, and educate pupils about healthy relationships. RSE should meet the needs of all pupils, whatever their developing sexuality or identity – this should include age-appropriate teaching about different types of relationships in the context of the law.
Pupils should receive teaching on LGBT relationships during their school years. Secondary schools will be expected to include LGBT content and primary schools can cover age appropriate content also. This would be delivered, for example, through teaching about different types of family, including those with same sex parents.
How will children and young people be safeguarded in these lessons?
At the heart of Relationships Education and RSE, there is a focus on keeping children safe and the role that schools can play in preventative education.
At St John's, all of our teachers are aware of the risks in teaching about sensitive subjects and give particular considerations to planning around these issues and ensuring material is focused on prevention rather than being instructional. These lessons give children an open forum to discuss potentially sensitive issues in a safe, controlled environment.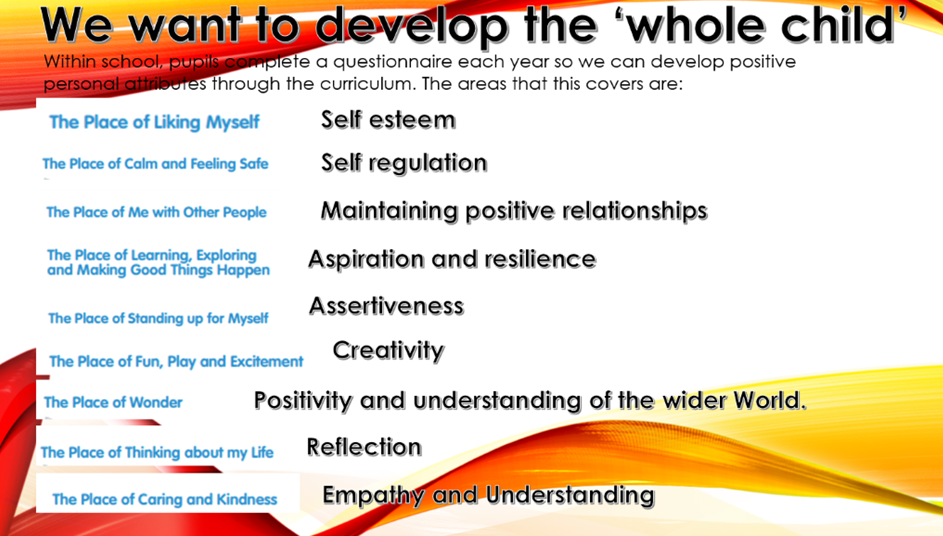 Personal, Social, Health and Economic (PSHE) education is a school subject through which pupils develop the knowledge, skills and attributes they need to manage their lives, now and in the future. These skills and attributes help pupils to stay healthy, safe and prepare them for life and work in modern Britain.
The button below shows results of how PSHE supports improvement for or St John's Pupils' following Lockdown 3 (March 2021.)
CREATING A SAFE LEARNING ENVIRONMENT in RSE LESSONS
Within lessons teachers will:
work with pupils to establish ground rules about how they will behave towards each other in discussion (see the Ground Rules section below)
offer some opportunities for pupils to discuss issues in small groups as well as sharing views with the class
make something available in which pupils can place anonymous questions or concerns, to avoid having to voice them in front of the class (see the 'Ask-it Basket' section below)
provide access to balanced information and differing views to help pupils clarify their own opinions and views (while making clear that behaviours such as racism, discrimination and bullying are never acceptable in any form)
ensure all teaching and learning is inclusive, avoids heteronormative assumptions, and meets the needs of all learners—including those with special educational needs and disabilities (and is sensitive to the religious and cultural identity of pupils
exercise sensitivity to the needs of individuals, as some pupils may have direct experience of some of the issues raised.
always work within the school's policies on safeguarding and confidentiality (ensuring that pupils understand school policies on disclosure of confidential information and following up concerns in a more appropriate setting outside lessons)
GROUND RULES
Ground rules help to minimise unintended disclosures, disclosures at inappropriate times or comments of a negative nature made towards other pupils (whether intentional or not). Such ground rules support broader class rules and the school's behaviour for learning and positive relationships policy. To be effective, pupils and teachers develop ground rules together, re-visit them at the start of every lesson and apply them in all discussion and group activities, amending them as necessary.
Examples of ground rules include:
respecting what people say
listening to others
not asking personal questions or putting people 'on the spot'
not making assumptions about other people
having the right to 'pass' if you do not wish to comment
ASK-IT BASKET
An 'Ask-it Basket' question box or bag encourages pupils to ask questions with anonymity and without embarrassment. Introduce the Ask-it Basket either whilst creating the ground rules or at the beginning of each lesson. It should be accessible both during and after every lesson. The purpose of the Ask-it Basket should be explained to pupils:
Anyone can use it to post a question, at any time and as many times as they want.
Questions can be anonymous, or they can put their name on their question so the teacher can follow it up with them individually.
Only the teacher will see the questions, unless there are significant issues about a pupil's safety or wellbeing that need to be shared with others.
Questions raised will be dealt with in the following lesson (or sooner if relevant to a pupil's safety and wellbeing). Depending on the nature of the question, some responses may be answered as part of a small group session or one-to-one and will be treated anonymously so no-one knows who asked the original question.
Curriculum
Colour Code:

Year 5
You can also download a copy of this at the bottom of the page.
Autumn 1

Autumn 2

Spring 1

Spring 2

Summer 1

Summer 2

Who Influences Me?

What is Emotional Health?

Careers Focus –

Ductu Projects

Bags of Kindness run by British Red Cross

Keeping Secrets

MEDWAY - RSE Lesson 1 - Time to Change

DRUG & ALCOHOL - Medicines

Do Right Thing

Ups and Downs of the day

Underwear Rule (PANTS)

MEDWAY - RSE Lesson 2 - Menstruation and Wet Dreams

DRUG & ALCOHOL - Legal and Illegal drugs

Teamwork

Getting Help

Online Safety

MEDWAY - RSE Lesson 3 - Personal Hygiene

DRUG & ALCOHOL - Managing risk

Diversity and Equality

Coping with Change

Online Safety

MEDWAY - RSE Lesson 4 - Emotions and Feelings

DRUG & ALCOHOL -
Managing risk:

Inclusion

Coping with Stress

Online Safety

The importance of an active lifestyle. Balance

The Sleep Factor

Anti-Bullying 'Helping Hands' Lesson

Self-Esteem

Assessment Activity/Consolidation

Gaming or Gambling - Resources - Parent Zone

Sun Safety Ready for Summer - Information from Sun Safe Schools
Y5 Lesson 1: about some of the physical changes experienced during puberty
identify some of the physical changes that happen to bodies during puberty
explain that puberty begins and ends at different times for different people
use scientific vocabulary for external male and female body parts/genitalia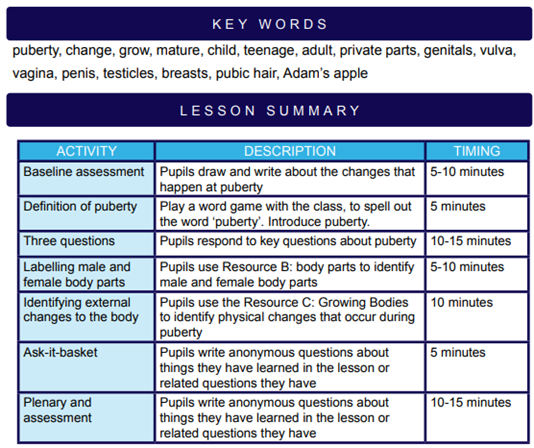 Y5 Lesson 2: about the biological changes that happen to males and females during puberty
use scientific vocabulary for external and internal male and female body parts
explain what happens during menstruation (periods)
explain what is meant by ejaculation and wet dreams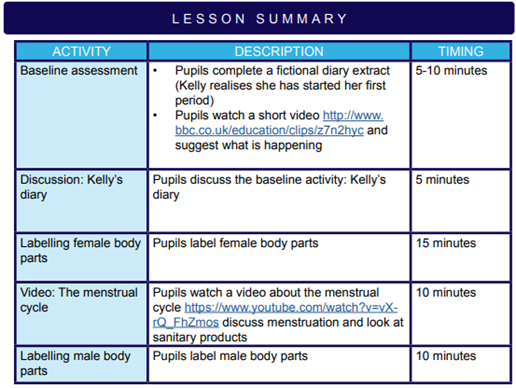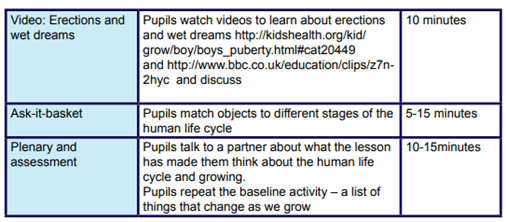 Y5 Lesson 3: about the importance of personal hygiene during puberty and responding to questions about puberty
explain how and why it is important to keep clean during puberty
describe ways of managing physical change during puberty
respond to questions and give advice to others about puberty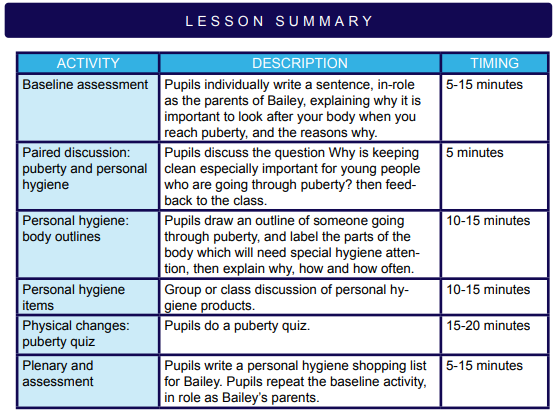 Y5 Lesson 4: how and why emotions may change during puberty and about getting appropriate help, advice and support about puberty
describe how emotions and relationships may change during puberty
explain where we can get the help and support we need in relation to puberty.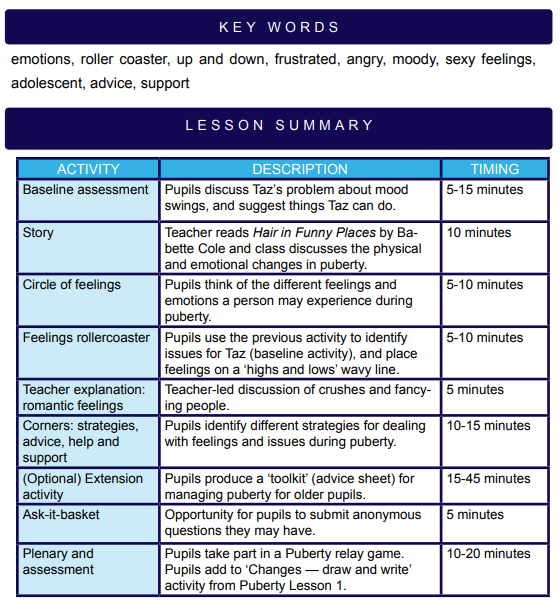 Year 6
You can also download a copy of this at the bottom of the page
| | | | | | |
| --- | --- | --- | --- | --- | --- |
| Autumn 1 | Autumn 2 | Spring 1 | Spring 2 | Summer 1 | Summer 2 |
| Diversity | RSE MEDWAY Lesson 1 - Puberty: Recap and Review | Coping Strategies | Making Sense of Relationships - Changing friendships | Newswise Lesson 3 Managing Feelings about the news | Childnet Trust Me L1: Can you trust everything you see/read online? |
| Rights and Responsibilities | RSE MEDWAY Lesson 2 - Change and becoming independent | Coping Strategies | Making Sense of Relationships - Healthy Online Friendship | Newswise Lesson 5 - Spotting Fake News | Childnet Trust me L2. Can you trust everyone who contacts you online? |
| Gender Stereotypes | RSE MEDWAY Lesson 3 -Positive and Healthy Relationships | Being Assertive | Mental Health and Wellbeing 1 - Mental Health and Keeping Well | Newswise Lesson 6 - Understanding that news is targeted | Mediasmart - Digital advertising |
| Setting SMART Goals Lesson | RSE MEDWAY Lesson 4 - How a Baby is Made | Nutrition | Mental Health and Managing Challenges and Change | BBFC - What can we watch? Can we choose what to watch? | Disrespect NoBody – Lesson 1 Relationship Abuse |
| Setting SMART Goals Lesson | Menstruation | Dental Health | Loss and Bereavement | Exploring Risk - Gambling | Domestic Abuse Lesson - Courtroom Game |
| Premier League Primary Stars Resilience 1x | Rise Above Sleep | Consolidation and Assessment | Consolidation and Assessment | Exploring Risk - Cahncing It | Mental Health L3 - Transition to KS3 |
Y6 Lesson 2: about managing change — new roles and responsibilities as we grow up
describe some changes that happen as we grow up
identify the range of feelings associated with change, transition to Key Stage 3 and becoming more independent
describe practical strategies to cope with growing up, becoming more independent and taking on new responsibilities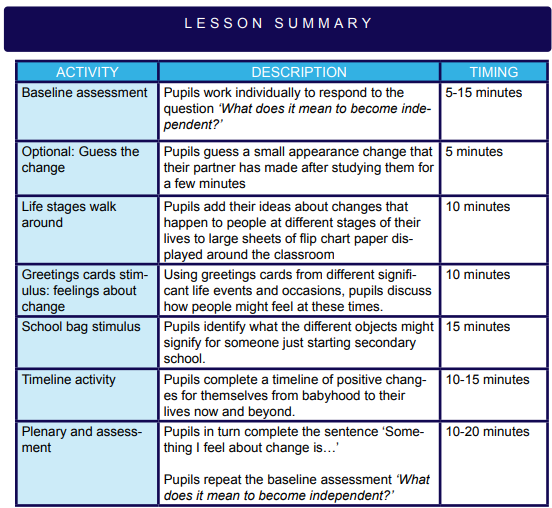 Y6 Lesson 3: about what constitutes a positive, healthy relationship and that relationships can change over time
identify different kinds of loving relationships
describe the qualities that enable these relationships to flourish
explain the expectations and responsibilities of being in a close relationship
recognise how relationships may change or end and what can help people manage this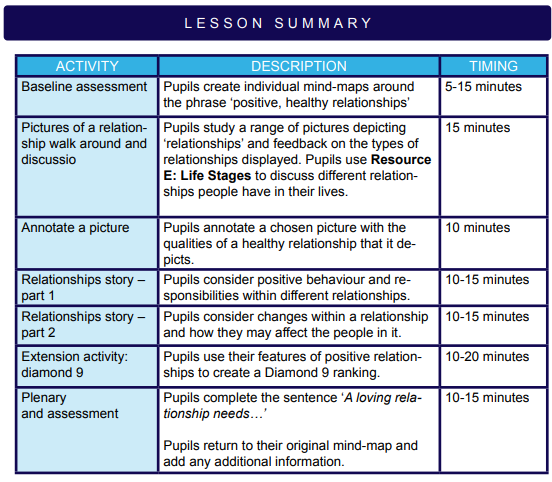 Y6 Lesson 4: about adult relationships and the human life cycle and about human reproduction (how a baby is made and how it grows)
identify the links between love, committed relationships / marriage, and conception
explain what sexual intercourse is, and explain that this may be one part of an intimate relationship between consenting adults
explain what pregnancy means, how long it lasts, and where it occurs, i.e. that a baby is made when a sperm (male) meets an egg /ovum (female) and then the fertilised egg settles into the lining of the uterus (or womb) (female)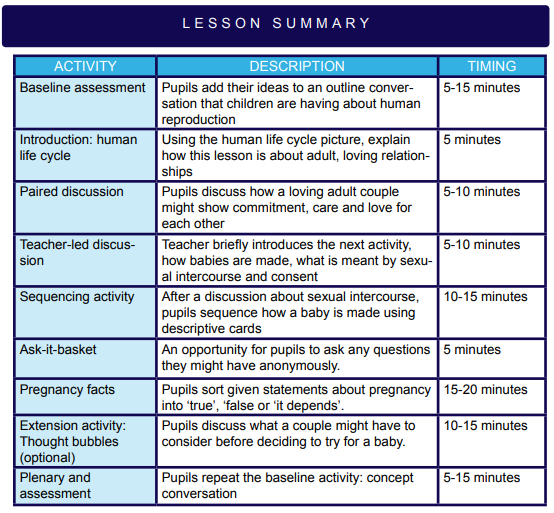 Let's Talk About Where Babies Come From: A Book about Eggs, Sperm, Birth, Babies, and Families: Amazon.co.uk: Harris, Robie H., Emberley, Michael: Books Is an example of a book available in school that can be used and is appropriate for children aged 7+
Year 7
You can also download a copy of this at the bottom of the page
| | | | | | |
| --- | --- | --- | --- | --- | --- |
| Autumn 1 | Autumn 2 | Spring 1 | Spring 2 | Summer 1 | Summer 2 |
| Barclays Money Skills - Recognise your money personality | Rise Above Sleep KS3 | Mental Health and Wellbeing KS3 - Attitude to Mental Health | Careers - Leadership | Medway RSE Healthy relationships Y7 L2 | Crossing The Line - Cyberbullying |
| Barclays Money Skills - Understand Bank Accounts | Bullying and Cyber-Bullying | Mental Health and Wellbeing KS3 - Online Wellbeing | Careers - Innovation and Ideas | Medway RSE Introducing Consent Y7 L3 | Talking Heads - Self Esteem |
| Barclays Money Skills - Money Habits & Online Safety | Dealing with Feelings - Let it out | Consensual and Non-Consensual sharing of nudes and semi-nudes | Careers - Apprenticeships | Home Office Disrespect Nobody Lesson 2 - Consent | Myth Vs Reality - Body Image |
| Understand Fraud | Dealing with Feelings - Agressions | Rise Above Alcohol | Careers - Jobs in Agriculture | NSPCC Making Sense of Relationships - Gender Stereotypes | KS3 Smashing Stereotypes & Feeling Proud |
| Identify Fraud | Dealing with Feelings - Self-Harm Myths and facts | Rise above Smoking/Drugs | Careers - Jobs in Engineering | Rise above Body Image | Disability Discrimination |
| Bank of England | Dental Health | Vaping | Careers - Jobs in Health Care | Unwritten Rules and managing conflict - Domestic abuse | Making Sense of Relationships - Safer Online Relationships x1 |
Y7 Lesson 2: about the qualities of healthy and unhealthy relationships
I can identify healthy and unhealthy relationship behaviours
I can describe the consequences of different relationship communication styles
I can demonstrate active listening and assertiveness skills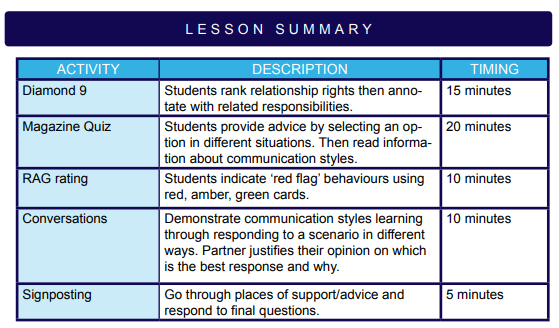 Y7 Lesson 3: about consent, what it means and what it should look like in practice.
I can explain what consent means, both legally and ethically, and why it is so important.
I can identify signs of when someone is consenting and when they are not.
I can describe how consent is sought, given and not given in a healthy relationship.
I can give reasons why most young people do not have sex until after they have passed the age of consent.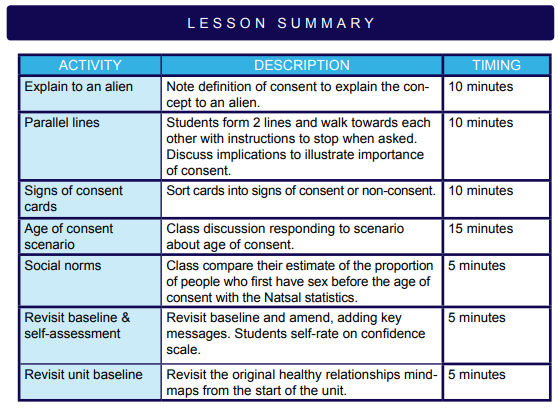 This is an example of a video used to explain the concept of consent.
Year 8
You can also download a copy of this at the bottom of the page
| | | | | | |
| --- | --- | --- | --- | --- | --- |
| Autumn 1 | Autumn 2 | Spring 1 | Spring 2 | Summer 1 | Summer 2 |
| Long Term Career Goal | BBFC Deciding what to watch | Medway RSE Y8 Sexual Orientation and Gender Identity | RUN HIDE TELL | PSHE Assoc. Mental Health and Wellbeing Lesson 4 - Unhealthy Coping Strategies - Self Harm and Eating Disorders | Barclays Lifeskills - Recognising and building Personal Skills |
| Skills and Aspirations | Trust Me Secondary Online Content | Medway RSE Y8 Relationship Values | First Aid | PSHE Assoc. Mental Health and Wellbeing Lesson 5- Healthy Coping Strategies | Barclays Lifeskills -Setting Goals |
| Overcoming Challenge | Trust Me Secondary Propaganda | Medway RSE Y8 Introduction to Consent | BBFC Realtionships on Screen | Merge Samaritans D. Connecting with others 3. Barriers to seeking help and 4. Supporting a friend | Barclays Lifeskills -Adaptability |
| Creativity and Communication | Trust Me Secondary Online Contact | Medway RSE Y8 Introduction to Contraception Ppt | BBFC Sexualisation on Screen | Merge Samaritans D. Connecting with others 8. Talking Helps, 9. Who are Samaritans, 10, Barriers to asking for help and 11. Helping my friends | Barclays Lifeskills - Staying positive (Resilience) |
| Proactive and Problem Solving | Positive Friendships | Medway RSE Y8 Parenting | My Sense of Self - Body Image and Self esteem | Domestic Abuse - An Introduction. | Rise Above Transition to High School |
| Online Presence | Home Office Knife Free | Consolidation and Assessment | Media Smart - Influencer Marketing | Forward FGM | Rise above - Exam Stress |
Y8 Lesson 1 - To understand and respect the spectrum of gender identities and sexual orientations.
I can explain the difference between sexual orientation and gender identity
I can identify and challenge homophobic, biphobic and transphobic behaviour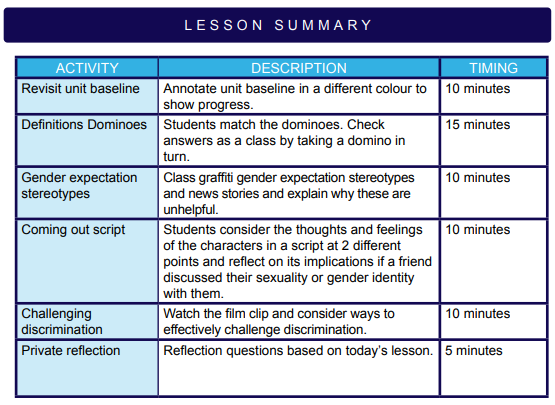 Y8 Lesson 2: to develop realistic and healthy relationship expectations.
I can reflect on my values around relationships
I can identify when a relationship can be improved with effective communication or when the relationship is no-longer healthy and should be ended
I can suggest safe and constructive ways of ending a relationship

Y8 Lesson 3: about the impact of persuasion and pressure on consent and strategies to manage such persuasion.
I can explain that no one has the right to intimidate someone into giving their 'consent' (as such an agreement is not consent) and that sexual activity following such a threat is illegal.
I am able to explain how to ask someone for their consent without putting them under pressure.
I can demonstrate understanding of a person's right to say no and to have their decision respected; and that they do not have to justify it.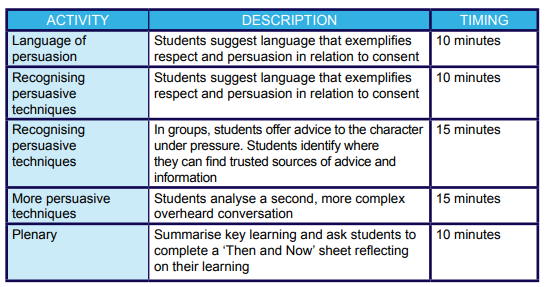 Y8 Lesson 4: about how and why different contraceptives are used
I can explain what is meant by contraception
I can explain how and why condoms are used
I can explain how and why the contraceptive pill is used
I can explain where and how to get contraception and advice on contraceptives