Physical Education (PE)

PE Aims and Vision
The PE curriculum is broad and balanced which allows pupils develop skills and knowledge to enable them to perform with increasing confidence and competence in a range of activity areas. Some of the activities covered include team and individual games activities, dance, gymnastics, athletics, and healthy active lifestyles. As well as developing their physical competence we have a strong focus on developing knowledge, leadership skills and having a positive mindset.
We aim to make PE an enjoyable experience for all pupils and for them to have the opportunity to participate in a range of more traditional but also alternative sports. This is to encourage lifelong participation in physical activity. Practical skills are underpinned by "My personal best" which is a Youth Sports Trust initiative to develop life skills of confidence, competence, motivation, and resilience through participation in sport.
What is distinctive about PE at St John's Middle School
All students take part in inter house competition in curriculum time.
We have extensive enrichment activities and exceptional number of students taking part in extra-curricular PE.
We have 4 secondary trained specialist PE teachers.
We annually play 100 + fixtures and have has success at town and county level.
We have whole school Sports day.
We offer a range of sports related trips including an annual Netball and Football tour and a trip to Twickenham to watch national level rugby.
We celebrate and promote student success through; sports colours and honours, PE praise assemblies, positive postcards, PE bulletin and Red sweater letter.
The aims of the PE Curriculum at St John's Middle School are
To develop physical competency in the activity areas covered: gymnastics, dance, games activities, net and wall games, striking and fielding games and OAA.
To promote a sense of enjoyment from being physically active and a desire achieve their "personal best".
To develop an appreciation of fair play and sportsmanship enabling pupils to work well effectively in competitive and cooperative situations.
To understand the benefits exercise in promoting an active lifestyle
Curriculum Overview
6 lessons/ 3 weeks per activity
| Term 1 | Term 2 | Term 3 |
| --- | --- | --- |
| Games x 2 | Games x 2 | Athletics |
| Gymnastics | Dance | Striking and Fielding Games |
| Indoor Athletics | Healthy Active Lifestyles | OAA |
| | | Net and Well Games |
Extra-curricular PE
We encourage all students at St John's to take part in extra-curricular activities. We offer a wide range of before and after school clubs and believe there is something on offer for everyone. Information about joining extracurricular clubs is sent out via ParentMail. Alternatively, please contact Mr Cowdery.
What is Sports Premium Funding?
Recently the government have committed to continue funding the primary school Sports Premium into the academic year 2022-2023 - an investment worth £320 million. The funding is being jointly provided by the Department for Education, Health and Culture, Media and Sport, and will see money going directly to primary school headteachers to spend on improving the quality of sport and PE for all their children. Each school will receive £16,000 plus an extra £10 per pupil each year. For the academic year 2021/22 St John's Middle have been awarded with £19,150. (need to check)
PE and Sports Premium Funding at St John's.
At St John's Middle we value to importance that PE can have of children fulfilling a healthy and active lifestyle. We believe that an innovative, varied PE curriculum and extra-curricular opportunities have a positive influence on the spiritual and academic well-being of our students.
Our primary PE and Sports Funding premium enables us to extend our current provision through employing sports coaches, entering into more competitions and training staff to deliver high quality PE.
Please see below (attached) our annual impact statement reflecting how we spend our sports premium funding.
Our annual Sport Premium spending report is included on our website.
PE Kit
For the academic year 2022/23 we have decided to adapt out approach towards our PE uniform to best cater for the needs of our children. Following some enforced changes due to Covid restrictions, we have aimed to take the positives from both our old and new approaches to offer a model which is both supportive and constructive to learning.
All KS2 pupils will be asked to attend school in their PE kit on the days they have PE lessons. This will minimise time lost due to changing and also help to prevent kit being misplaced. KS3 pupils will come to school in their PE kit unless directed by their PE teacher not to. In these cases, children will need to bring their kit into school and will change in the school changing rooms. This will allow for outdoor lessons to continue as normal, regardless of weather or playing conditions.
A comprehensive PE uniform list is available in the uniform section of our website.
Assessment KPIs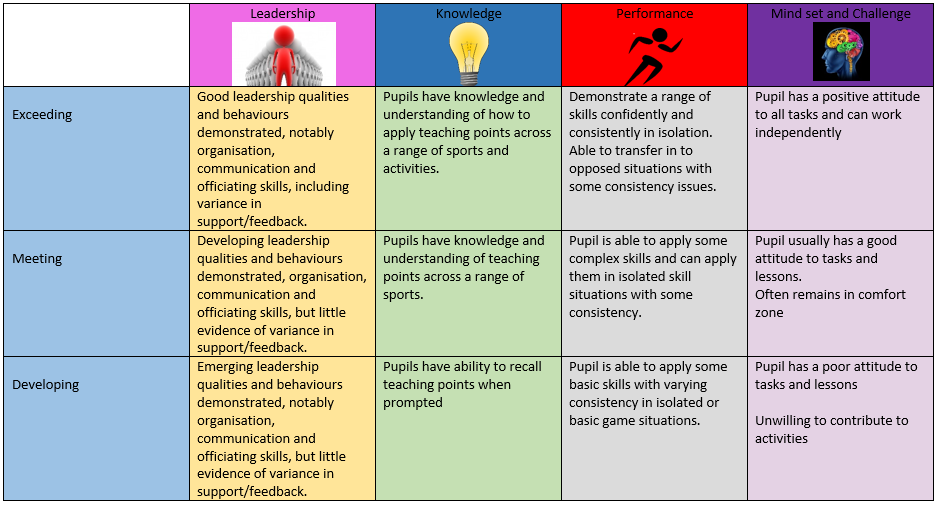 Knowledge Organisers
Autumn
Please click the button below to access this term's Knowledge Organiser.
Spring
Autumn
Please click the button below to access this term's Knowledge Organiser.
Summer Term - All Years
Please click the button below to access this term's Knowledge Organiser.
Games
Please click the buttons below to access each Knowledge Organiser.